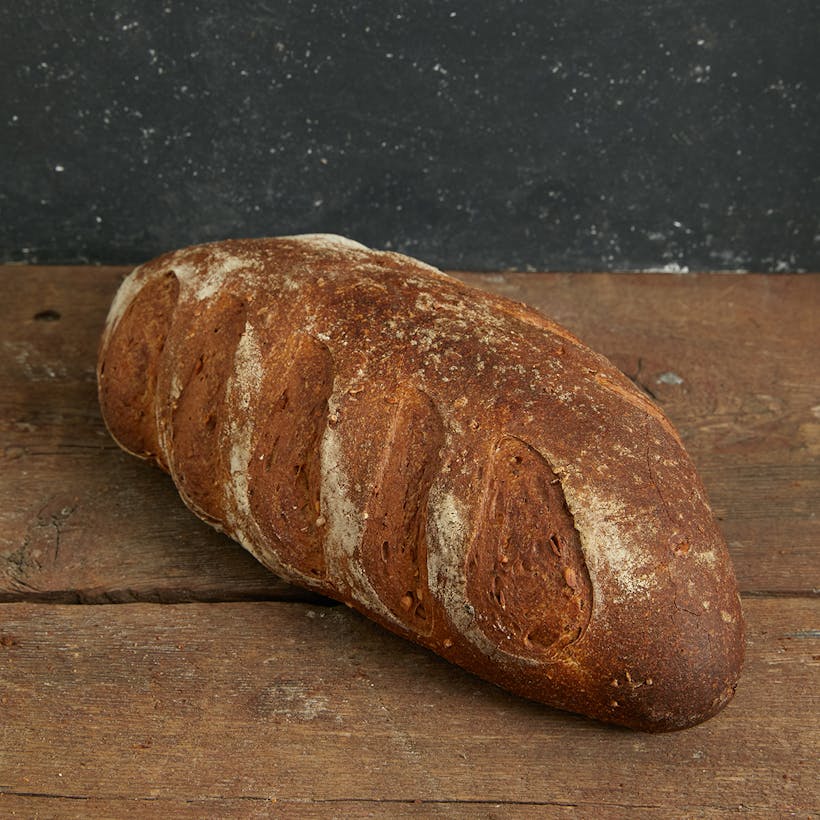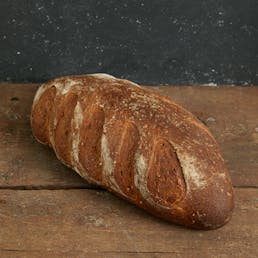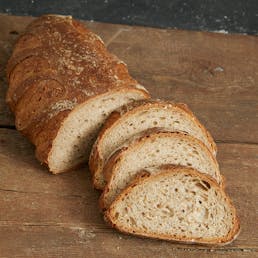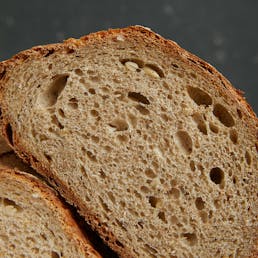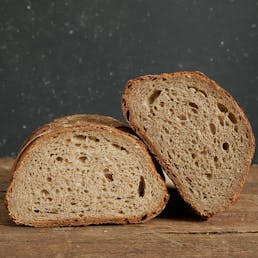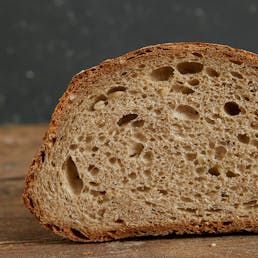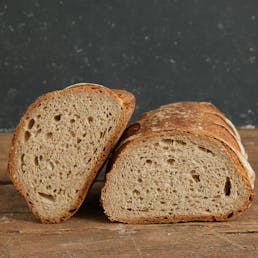 Bien Cuit's Multigrain Sourdough is made with a blend of wheat and rye flours and a combination of cracked spelt, oat, rye, and wheat grains and sunflower seeds. Each loaf is shaped by hand and fermented for 36 hours. It features a very earthy cereal-based flavor, and while delicious by itself, also makes a perfect breakfast toast.
Bien Cuit's name itself is taken from the French expression for "well done", often used to describe the darkest, crunchiest loaves. At this Brooklyn bakery, their commitment to using time-honored techniques of slow-fermentation, which requires 16 to 68 hours for each loaf, and small-batch mixing allow Chef-owner Zachary Golper and his team to dedicate maximum attention to the baking process and create complex, innovative flavors that highlight local grains and seasonal ingredients.
More Details
This package serves 12-15 people and includes 1 Multigrain Sourdough Loaf
Each loaf is 13×6×4
Choose to add a tote
Due to Bien Cuit's slow fermentation process, their orders require a 4 day lead time for production. Orders may be canceled only if we are notified more than 4 business days before they are set to ship.
Ingredients
Wheat, rye, water, oats, sunflower seeds, sea salt, malt barley flour, yeast, ascorbic acid
Instructions / Storage
Given the length of time since this bread first left the oven, it is suggested you refresh and enjoy immediately or freeze to be refreshed at a later time
Refrigeration is not recommended, but the loaves can be frozen upon arriving to maximize freshness
To avoid any unwanted freezer flavors, wrap in another airtight container
For optimum texture and eating experience, refresh at 350 for approximately 10 minutes on a preheated pizza stone or cast iron pan

Cool completely before slicing to serve and enjoy same day.
Shipping Details
Items are prepared fresh and shipped directly from the shop
Bien Cuit ships Mondays & Wednesday of each week.
Orders cannot be shipped to P.O. Boxes.
Orders shipped to Alaska and Hawaii via 2-day will incur an additional $20 charge or $35 for Overnight Shipping.
Have more questions about Shipping? Read our Shipping FAQ page.